Bad relationships can haunt us. Literally.
Pain and violence stand at the center of the Bad Romance shorts program that kicks off the Final Girls Berlin Film Festival on February 6, 2020. The seven films described here provide fraught and chilling takes on all sorts of relationships. A married couple bonds through social media in a grisly way; long-suffering wives take revenge on abusive husbands; a middle-aged man pays a gruesome price upon leaving his spouse for a younger woman.
But there's hope here, too. The specters, monsters, festering wounds, and other horror staples in these shorts remind us that affection and belonging exist amidst the suffering. A woman fixated on her death finds a companion, a secret brings two unlikely friends together, and strangers make a connection over a fetish. The message is simple and worth remembering: when it comes to relationships, we're all trying to find our way in the dark.
And, sometimes, women see through the blackness better than men. Directed by women and non-binary filmmakers, what these shorts share in common is strong female leads willing to take risks for love, marriage, and friendship. They reveal their deepest insecurities, confront toxic men, and face down demons that trouble their sense of self-worth. Their confidence in the face of Bad Romance changes how we think about the final girl archetype from which this festival takes its name.
Sometimes, I Think About Dying
Director: Stefanie Abel Horowitz
Country: United States
Fran is a lonely introvert who thinks a lot about death. But, she's funny, too. So funny, that a co-worker takes an interest in her. Now, she must summon the courage to date … and possibly more.
Of the seven shorts, I think about this film the most often. It is a strong opening statement about a woman trying to overcome the fear of being alone. But, it also burns with a quieter, more sinister warning about what could go wrong when you open up to someone. Katy Wright-Mead's excellent acting makes us feel Fran's anxieties. It's frightening for the protagonist to be with a man who might be sincere but, then again, might also harbor ulterior, menacing motives.
Attachment
Director: Katarzyna Babicz
Country: Poland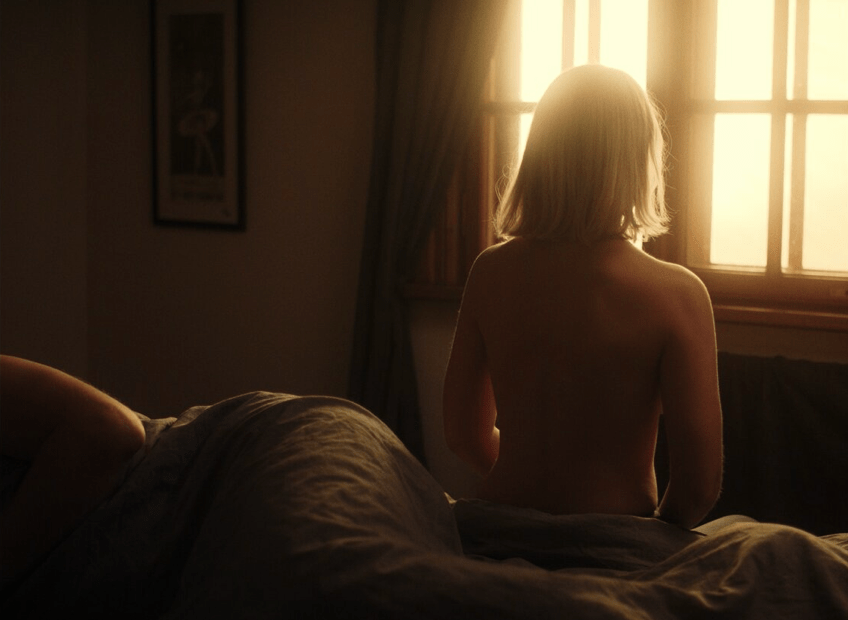 A man leaves his wife for a younger woman. To his shock and dismay, he realizes she's not what she seems. There's something dark and ugly beneath the lure of youthful beauty.
This is the most conventional of the horror shorts. Music, staging, and makeup frighten us with a modern take on the succubus myth. The beast is the price a middle-aged man pays for becoming a cliché. But it's also a woman's rage at realizing she's spent her youth on an aging stereotype. The scary in this film is not particularly original. It's most effective in the moments after the beast appears, when we see the bored and disappointed couple for who they really are.
Crust
Director: Isabella Avery
Country: United Kingdom
Mabel, an elderly woman, enters a baking competition. But she's weighed down by her husband's negativity. So, she takes steps to silence him and then realize her dreams.
It's a stop-motion short for those who like molding clay into three shapes of mangled body parts. The upbeat quality of the animation is an eerie counterpoint to the Bad Romance contained in this short. Mabel is a sympathetic character with no sympathy for her mean-spirited husband. There's no tension in her character, though. We know what she's going to do to her husband from the start. The dark humor here is in the idea of a chirpy maternal figure who commits acts of carnage.
Sports Day
Director: Lin Tu
Country: China
A girl and a boy cut class on their school's mandatory sports day. They want alone time. But they have different ideas about how to spend that time. Something dark and menacing appears.
The horror stands in here for a young woman's loss of innocence. She fights to define herself against a demon that erupts in response to the sexually-aggressive young man. I didn't find the staging of this evil spirit to be especially frightening or effective. But the director does interesting things with lighting and color to show the woman's struggle. And, the acting is very good. We feel the confusion and grief as she confronts her worst fears about sex and virginity.
It's Easier to Raise Cattle
Director: Amanda Nell Eu
Country: Malaysia
Ramah, an awkward teenage girl, forms an unlikely friendship with the village rebel. She learns that her new friend has monstrous secrets.
The short delivers a lot of emotional punch in a short time frame. What Ramah learns about her new friend haunts us, because we commit to the idea of their unusual bond. It's a quiet, sincere film about compassion, violence, and friendship. It is not especially scary, but it is honest about the way people on the fringes can make connections despite the differences that separate them.
Foyer (Hearth)
Director: Sophie B. Jacques
Country: Canada
Emile rents her house to a married couple that relaxes there in a sinister way. She has no idea what some couples like to do when they're alone together.
We watch the couple commit heinous acts in Emile's house while listening to a chilling voice-over of the husband leaving a cheerful online review of their stay. Couples bond by sharing all sorts of unspeakable hobbies. Upon returning, Emilie walks through the house. She's satisfied and oblivious. The gig economy is not what it seems, clearly, but neither is a successful marriage.
Deep Tissue
Director: Meredith Alloway
Country: United States
Deep Tissue is my favorite short and an excellent conclusion to the sequence. Here's another example of a relationship built around a grisly act. A woman invites a mysterious man to a hotel room to provide a service. The director cannily holds back the nature of that service until the end. Since, really, this film is about strangers connecting over a mutual interest. The rest is between them.
---
Here's what I learned from the Bad Romance block of shorts: love and companionship come in macabre and bizarre forms. So, take it where you can get it. And when you do feel alone, or fail to make a connection, know enough to relax and be good to yourself. Because the gore, spirits, and monsters that haunt bad relationships shouldn't prevent us from taking risks. That's what the female leads of these seven shorts want us to know. These final girls do not run half-naked and screaming down a hallway frantically avoiding a serial killer in a Shatner mask. Instead, they calmly face their terrors, deal with their pain, and look hopefully toward an affectionate future.