Read Time:
3 Minute, 48 Second
DIS/MEMBER is giving away a 1 BLU-RAY copy of the smash hit by Leigh Whannell, THE INVISIBLE MAN!
Enter by following DIS/MEMBER on Twitter, Instagram, or Facebook and comment on any of the social medias under the giveaway the answer to the following question: "WHAT WOULD YOU DO IF YOU WERE INVISIBLE?"
The giveaway begins on May 18, 2020, at 12:00am and will end on May 25, 2020, at 12:00am!
From all of us at D/M, GOOD LUCK!
---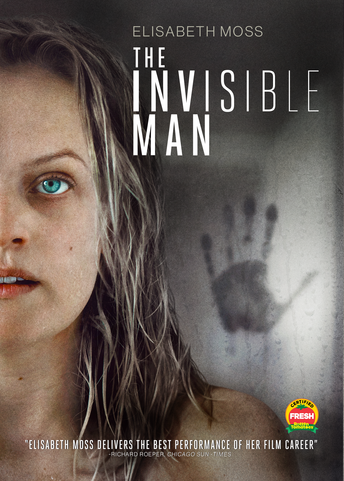 Universal City, California, April 7, 2020–THE INVISIBLE MAN, an intense, modern-day psychological thriller, becomes available to own for the first time on digital May 12, 2020, and on 4K UHD, Blu-ray™and DVD on May 26, 2020from Universal Pictures Home Entertainment. From iconicproducerJason Blum (Halloween, Split, Get Out, Us) and director Leigh Whannell(Saw, Insidious, Upgrade), this psychological thriller modernizes Universal's shapeshifting, classic monster against a backdrop of an empowered woman facing her tormentor. "A cutting, contemporary work of socially conscious horror" (Peter Travers, Rolling Stone), THE INVISIBLE MAN comes home with never-before-seen bonus content.
THE INVISIBLE MAN follows a modern tale of obsession inspired by Universal's classic monster character. Cecilia Kass (Elisabeth Moss) slowly begins to rebuild her life after the death of her abusive ex-boyfriend (Oliver Jackson-Cohen). But before long, she begins to question whether or not he is truly gone. In addition to the feature, THE INVISIBLE MAN delivers up twenty minutes of exclusive bonus content, including a chance to better get acquainted with the film's leading actress: Elisabeth Moss, feature commentary with the writer/director and deleted scenes you won't want to miss.
Hailed as 'Certified Fresh on Rotten Tomatoes with a score of 91%, THE INVISIBLE MAN stars two-time Emmy®-winner and two-time Golden Globe®-winner Elisabeth Moss (Us, "The Handmaid's Tale"). Accompanying Moss is SAG®-winner Aldris Hodge ("Black Mirror", Straight Outta Compton), Oliver Jackson-Cohen ("The Haunting of Hill House"), Storm Reid (Don't Let Go, "Euphoria"). The theatrical version of the film is currently available for early viewing on a wide variety of popular on-demand services as a premium rental offering.
---
BONUS FEATURES ON BLU-RAYTM, 4K ULTRA HD AND DVD:
DELETED SCENES
MOSS MANIFESTED –Elisabeth Moss describes the physical and emotional challenges she faced while portraying Cecilia, a woman whose truth is constantly questioned by those around her.
DIRECTOR'S JOURNEY WITH LEIGH WHANNELL –Director Leigh Whannell acts as tour guide through principal photography, from day 1 to day 40.
THE PLAYERS –Filmmakers and cast provide an in-depth analysis of each character and how they interact with the unseen terror of THE INVISIBLE MAN.
TIMELESS TERROR –A behind the scenes look at how writer/director Leigh Whannell re-imagined this iconic character through the lens of modern technology and socially relatable themes.
FEATURE COMMENTARY WITH WRITER/DIRECTOR LEIGH WHANNELL
Website: https://uni.pictures/TheInvisibleMan
Trailer: http://uni.pictures/TheInvisibleManTrailer
Facebook:@TheInvisibleManMovie
Twitter:@TheInvisibleMan
Instagram: @TheInvisibleManMovie
#TheInvisibleMan

---
FILMMAKERS
Cast: Elisabeth Moss, Aldis Hodge, Storm Reid, Harriet Dyer, Michael Dorman, and Oliver Jackson-Cohen
Casting By: Terri Taylor C.S.A, Sarah Domeier Lindo C.S.A, Nikki Barrett C.S.A, C.G.A
Costume Designer: Emily Seresin
Music By: Benjamin Wallfisch
Edited By: Andy Canny
Production Designer: Alex Holmes
Director of Photography: Stefan Duscio A.C.S.
Executive Producers: Leigh Whannell, Couper Samuelson, Beatriz Sequeira, Jeanette Volturno, Rosemary Blight, Ben Grant
Produced By: Jason Blum p.g.a, Kyle Du Fresne p.g.a.
Screenplay and Screen Story By: Leigh Whannell
Directed By: Leigh Whannell
---
This is a sweepstakes giveaway of one free copy of "THE INVISIBLE MAN" on Blu-Ray that runs from 05/18/2020 at 12:00am till 05/25/2020 at 12:00am.
No purchase necessary, open to U.S. residents 18 years or older. Not open to anyone associated with DIS/MEMBER.
Enter by following DIS/MEMBER on Twitter, Instagram, or Facebook and comment on any of the social medias under the giveaway the answer to the following question: "WHAT WOULD YOU DO IF YOU WERE INVISIBLE?"
One entry per user.
One winner will be chosen at random when the sweepstakes end. The winner will be informed within 48 hours via email.
The sponsor of the prize will contact the winner to send the prize.
This is a cross-promotion between DIS/MEMBER and Universal Pictures.
DIS/MEMBER will not send personal information to third parties and will only give the sponsor the email address of the winner.