Read Time:
13 Minute, 47 Second
Q: First, thank you so much for talking with me. For our audience, can you tell our audience a little about yourselves and how awesome you are?
Sarah & Sean: Thank you for speaking with us, Insha! It's such an honor to discuss horror films and filmmaking with you! We are a writing and directing team committed to telling character-driven stories with personal and socially-conscious themes within genre filmmaking. We believe that the horror genre is an invaluable entry point to exploring the human psyche and social conditions.
We've made a vampire film (HUNT), two post-apocalypse films (SAFE & ASTER AND SIDNEY), a queer subversion of the slasher genre (THORNS), an adaptation of one of Sarah's nightmares (WATER HORSE), and now we're making a horror folktale inspired by Vermont's frozen hill folk (THE THAW). We like to use subtle visual storytelling and invite our audiences to derive their own interpretations and meaning from our films. Our short films have been featured in numerous festivals and contests, including Fantastic Fest, Beyond Fest, Independent Film Festival Boston, and Sidewalk Film Festival.
Q: When did you first discover you wanted to make films and be in this industry? Did either of you have that moment where you're like "This is EXACTLY what I should be doing for the rest of my life?"
Sarah: I've been telling stories since before I can remember, as my parents like to remind me. I've loved movies for about that long too. It wasn't until college that I finally realized I could combine these two passions and write for film, and that could actually be a career. And it wasn't until after attending graduate school to that end – screenwriting – that I realized I could be the one to carry my ideas over the finish line as a director.
Sean: I traveled a long and winding road to becoming a filmmaker, but it started with an intense love for visual storytelling and movies. Some of my earliest memories were watching Jurassic Park and Jaws. I remember seeing Halloween at a very young age and having Michael Myers nightmares for a decade. I subconsciously loved how big of an impact these visual stories could have on me. I remember trying to write stories and failing. I never had anyone to facilitate my creative side as a kid, so I moved on to basketball and other activities, but I always loved watching movies.
As I grew older and the internet grew, it as easier to learn about directors and the nuts and bolts of filmmaking, but even though I loved drawing and was creating stick figure stop motion animation films with Powerpoint, I never thought filmmaking was something I could actually do. I actually went to college for Physical Therapy and hated it. I spent a year and a half trying to figure out what I wanted to do. During that time, I never stopped watching and talking about movies. Finally, a friend pushed me to study film. I decided I was tired of looking for something I might like and study something I knew I loved. I managed to talk Ithaca College into letting me try a class, and I immediately knew this is what I have to do.
Q: You guys worked on several projects together, can you also give us a little bit of your process behind the scenes? How do you guys come together with your ideas to make them a reality?
Sarah & Sean: This is a question we get a lot. We're actually married! So our collaborative process is very intertwined with our personal relationship. When we're eating dinner or doing errands, we're constantly discussing our different ideas. In the development stage, we're always pitching ideas for characters, story beats, and images. It's a fun process that we sometimes get too caught up in. Our writing process varies project by project, but generally, one of us will write a draft of a screenplay, and then we'll discuss. We'll pitch all our best ideas and try to objectively debate who is right. 95% of the time, Sarah is right. We'll do this until we're happy.
When it comes to directing, Sean directed our first few films by himself. Sarah didn't use to be interested in directing. However, in 2016 we saw a Q&A for ALWAYS SHINE with Sophia Takal at Independent Film Festival Boston. The way Sophia described directing helped Sarah realize that was something she could do and wanted to. We haven't looked back since! The first film we co-directed, WATER HORSE, went on to screen at Fantastic Fest and became our most successful film yet! Most of the work that goes into us co-directing a film is in preproduction. We spend a lot of time making sure we share the same vision. We've found it's a huge asset because we're able to divide and conquer on set when we need to. Or if one of us is having a bad day or struggling to block a scene, we can lean on the other. It's an incredible dynamic that we can't wait to keep developing.
Q: THE THAW is your new short (with a Seed&Spark campaign going strong!). It already looks stunning. Can you tell us a little bit more about this folk horror tale? Where did the idea come from? Also, what were some of your inspirations for directing and writing it?
Sarah & Sean: THE THAW is inspired by a 19th century Vermont folktale. According to the legend, farmers in the hills without the resources to survive the harsh winters would freeze their elderly relatives, store them for the winter, and thaw them out in spring, healthy and refreshed. A local paper published an account of this process in 1887, with excerpts from the supposed diary of a witness to this ritual. That article seems to be the source of the legend, and it just wove its way into the fabric of Vermont lore.
If you go to Northern Vermont and ask older folks about this legend, some of them still believe it! Or at least the freezing part, not so much the thawing out. A big influence on this story is one of Sarah's favorite authors, Joseph Citro. Citro is a Vermont author that The Boston Globe calls the "bard of the bizarre." He has done more to immortalize weird and spooky Vermont in print than anyone. His book GREEN MOUNTAINS, DARK TALES, includes a chapter on this legend and is probably where Sarah first encountered the story as a child.
This story is unique to Vermont and represents Vermonters' special way of surviving the elements. They had grit and independence that allowed them to survive. Most importantly, this folktale tapped into their biggest fears. Lack of resources and freezing in the winter months was a real threat. We believe horror folktales represent the opportunity to shine a new light on society. They reveal our biggest fears, and it turns out our fears aren't that different now. Ruth's struggle mirrors our society's current struggle with climate change. Extreme weather makes day-to-day life an even bigger struggle, and those in power strip our planet of the resources humanity needs to survive. We want to tell Ruth's story right now because it is about the agency we can claim in the face of this unpredictable future.
Your readers can learn more about THE THAW at our Seed&Spark campaign.
Q: One thing about the films that you guys make, they center around women. Sometimes they're flawed, they're searching, but you make them feel, even in horror or supernatural stories, you make them feel so very real. (I think this is what got me about Water Horse tbh.) For THE THAW, will Ruth be that kind of character? What can we expect from her? Without giving too much away. (I'm super fascinated with your female characters. Hahaha.)
Sarah & Sean: Thank you for the kind words regarding our female protagonists. We are definitely drawn towards female characters that fight to survive. We believe that conflict in a story can't exist without that deep connection with a real human being. No matter how crazy our film world gets, we try to ground it with character. That is definitely the case with Ruth. Even though our story takes place in the past and features supernatural elements, Ruth is a young woman dealing with very relevant and tangible conflicts. But she is driven by an inner will power that won't let her starve or freeze. She doesn't have any good options, but she'll do whatever it takes to survive, for better or worse. Her inner fire burns so brightly that she will find away.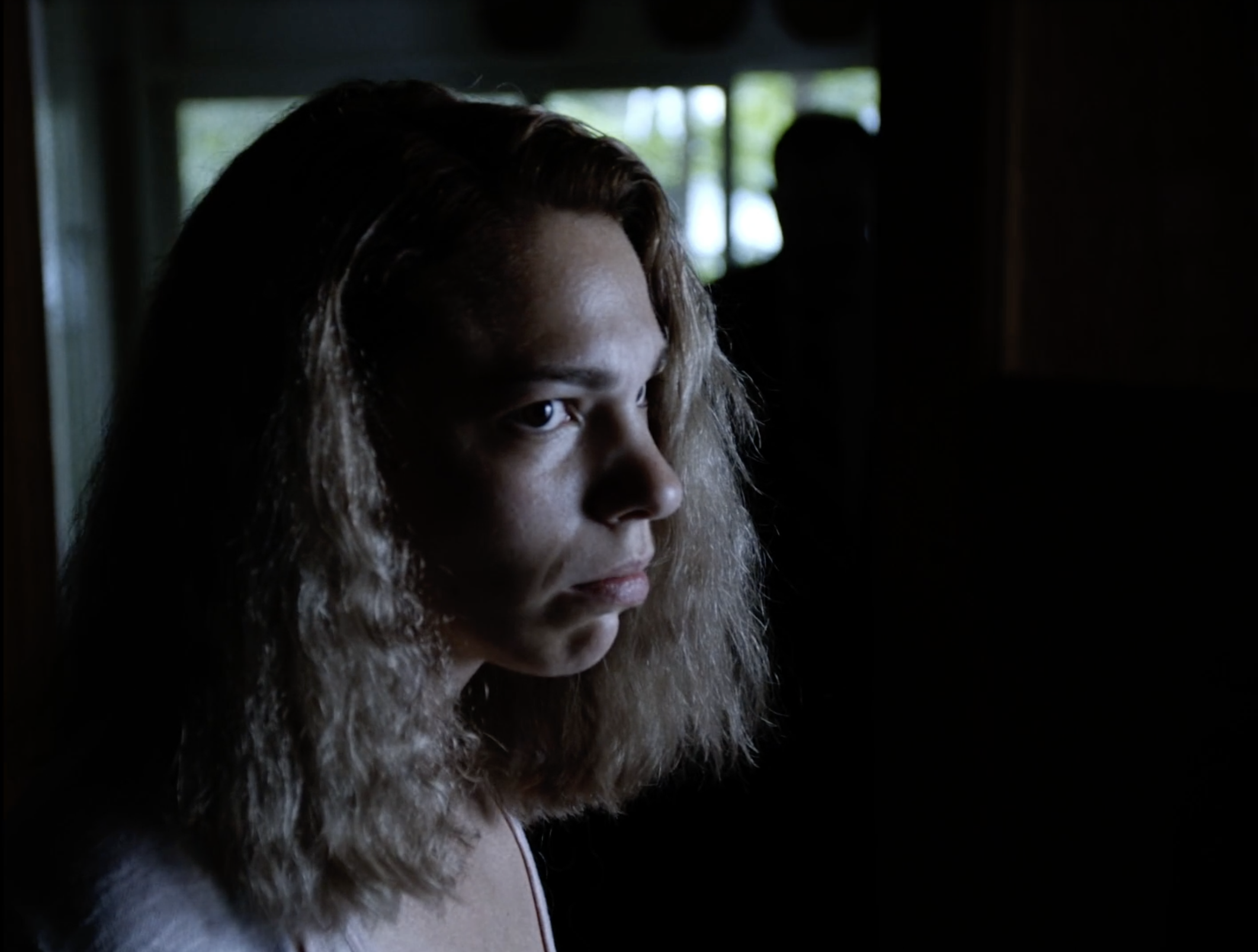 Q: You guys also have an incredible and diverse crew! Sarah, you're writing and directing! You also have female producers, cinematographers, costume designer, and you have the remarkable Emily Bennett, who starred and directed in LVRS. Why is it essential for you guys to have women working with you throughout the process? Was this process everything you wanted it to be? Working with such an excellent crew?
Sarah & Sean: People like to pretend the film industry is a merit-based system, but that isn't true. Most of the time, people get jobs based on who they know. When you add the fact that film has been a white male-dominated industry for so long, you're left with an environment where men give jobs to other men they know and claim it's because of "experience." They claim it's hard to find non-cis men to fill these roles, that other options don't exist. Let us say, this is utter nonsense. With a simple google search, you can find brilliant female and nonbinary filmmakers of all backgrounds ready to tackle any role on a film set. Filmmaking is inherently collaborative, and so bringing together a multiplicity of talented voices only strengthens the film. We believe in breaking down the doors and lifting each other up. And the fact is that so much of what we see in theaters and on our screens is coming at us from that white straight male perspective. That's just one perspective among an untold number, and we want to be part of the wave of filmmakers that are pushing for things to change. It's past time.
We're still in preproduction, but so far, the process has been amazing! Emily Bennett is an incredible actress. We met her last year at Horrible Imaginings and were immediately blown away by her evocative and emotive performance. We pitched the film to her, and we all felt an immediate creative spark. Our conversations have been incredible, and we can't wait for her to bring Ruth to life.
Our collaboration with Nora Unkel and Devin Shepherd of Wild Obscura Films is essential to this process. They create films driven by the female gaze and are the vehicle for the new generation of womxn filmmakers. They truly do everything in their power to support your creative vision. Danielle Hazelton Rose is our Vermont producer. She's handling everything on the ground and making our remote preproduction process a possibility. We must also call out our incredible producer, Darren Bailey. His devotion and the huge community he's spent years cultivating is an enormous reason our Seed&Spark campaign is doing as well as it is. THE THAW definitely wouldn't exist without him.
We've also brought on so many incredible artists! Mia Cioffi Henry is a brilliant cinematographer who elevates and materializes anything you can imagine. Ana Frost is building our costumes by hand with period-appropriate materials. Our nonbinary composer, Mattia C. Mauree, is a master at building anxiety through music, and this will be our fourth collaboration. Our colorist, Anastasia Shepherd, has perfectly manipulated our images, whether it's been a hazy, lakeside dream or a neon-soaked motel. We can't wait to see the stark, black, and white images she finishes. Our team is still growing, and at the end of the day, THE THAW wouldn't exist without all these incredible filmmakers' passion and love for the story.
Q: Here are some silly questions cause I love doing them to get to know people. What were some of your favorite films of the decade?
Sean: Here are 10 of my favorite films from the 2010s listed in alphabetical order. I consider all of these a reference point for THE THAW is some way.
THE BABADOOK, Jennifer Kent
FISH TANK, Andrea Arnold
THE FLORIDA PROJECT, Sean Baker
IDA, Pawel Pawlikowski
THE LIGHTHOUSE, Robert Eggers
MARTHA MARCY MAY MARLENE, Sean Durkin
MEEK'S CUTOFF, Kelly Reichardt
THE RIDER, Chloe Zhao
THE WITCH, Robert Eggers
WUTHERING HEIGHTS, Andrea Arnold
Sarah: I really struggle with this kind of question. I love so many things for so many reasons, and it goes against the grain to pick favorites. So I will second all the films that Sean said, particularly with regard to influences on THE THAW, and I will add the following films that stuck with me for whatever reason. MAD MAX: FURY ROAD, ONLY LOVERS LEFT ALIVE, KATE PLAYS CHRISTINE, STORIES WE TELL, MADELINE'S MADELINE, HER, IT FOLLOWS, RAW, WE ARE THE BEST!, MUSTANG, THE NIGHTINGALE, PHANTOM THREAD, ANNIHILATION, I AM THE PRETTY THING THAT LIVES IN THE HOUSE.
And I will add films from women this past year that everyone should see: PORTRAIT OF A LADY ON FIRE, THE FAREWELL, HIGH LIFE, FAST COLOR, LITTLE WOMEN, KNIVES + SKIN, LITTLE WOODS, SWORD OF TRUST, BOOKSMART, HUSTLERS, BLACK CHRISTMAS, TIGERS ARE NOT AFRAID, THE SOUVENIR, CAPTAIN MARVEL and coming up look for SEA FEVER, THE LODGE, and SAINT MAUD.
Q: What are some of your favorite genres of film?
Sarah & Sean: Obviously, we're very drawn to genre films. We love horror, psychological thrillers, science fiction, and many more. We also love nuanced depictions of everyday life — dramas where the conflict is very personal and human. Our favorite films combine these elements in a way that creates intense empathy for the characters.
Q: If you had to live in one, would it be a folk horror tale or a monster movie? (You can be the monster, hero, Black Phillip, or just another person living day by day. Hahaha.)
Sean: This is a hard question! I'd definitely rather be in a horror folktale than a monster movie because at least I'd be living in some kind of unique environment. I'd also die immediately in a monster movie. I think I'd want to be part of pagan community in a horror folktale because I'd be part of something bigger than myself. I'd have strong relationships and be surrounded by people I love. That said, I'm not sure how I'd handle the ritual sacrifice…
Sarah: Definitely folk horror for me. I'll be the mysterious witch in the woods and stay out of everyone's way!
Q: Thank you so much for talking with me. Can you let us know where our readers can find you? Via, social media, etc.
Sarah & Sean: Thank you so much for having us! It was so much fun discussing THE THAW and horror films with you! Your readers can learn all about this horror folktale at our Seed&Spark campaign. One of our favorite parts of filmmaking is building a community around a film. We would love for your readers to be a part of the team that will bring THE THAW to life!
You can find the Seed&Spark campaign for THE THAW at https://www.seedandspark.com/fund/the-thaw
Check out and follow Sarah Wisner Instagram & Twitter and Sean Temple Instagram & Twitter.
For more information check out: Homebody Pictures Website, Facebook and Twitter!
---
In addition to THE THAW campaign (which you should totally back as soon as possible),  they're partnering with
Tees-En-Scene
to raffle one of their Shelley Duvall t-shirts to one awesome backer!! Anyone who has donated $25 or more by Friday, January 31, will be entered to win!