Read Time:
4 Minute, 18 Second
Holy shitballs, has 2020 been a wild ride! But I believe we all learned a lot this year. Sadly, most of that probably falls under the "Good to Know" category rather than the "Good News" category. Who knew we would all end the year with Christmas lists that include day pajamas? Or be faced with the unsettling discovery that behind the burled, polished hardwood exterior of our system of checks and balances is the maggot laden, decomposing, hungry-for-your-brain zombie of despotism? Or just how easily many of our nation's most beloved ideals could be subverted and perverted, used to attack the very principles they were established to protect?
But let's talk about the movies. Here is my first ever end of year wrap up of favorite films from the last few years. I made an effort to concentrate on movies that I haven't written about previously because everyone already knows that Luca Guadagnino's Suspiria is my favorite film. No, I mean Mandy, or was that Midsommer? Or…
I have been using the tools at Trakt to record what I watch and rate.  My profile (please feel free to follow me!) is here: https://trakt.tv/users/mcubed1220
---
RATED 10/10

: Host, 8: A South African Horror Film, The Color Out of Space
Host (2020) – What a perfect way to start a list of top movies of this year: A found footage film that takes place in a real-time Zoom-esque meeting. So much could have gone wrong, but the film is perfect in its execution and nail-biting intensity.
---
8: A South African Horror Film (2020) – I am always drawn to foreign horror films from exotic places. This South African film packed quite a lot into its tiny story. It was intriguing, heartwarming, and terrifying, all at once. 
---
The Color Out of Space (2019) – Cosmic horror gets the Richard Stanley touch. Don't be turned off by all the positive buzz surrounding this film because it is an amazing odyssey! Plus, you get to see a shirtless Tommy Chong.
---
RATED 9/10

: La Llorona, Possessor Uncut, Amulet
La Llorona (2020) – Don't confuse this with Michael Chaves' 2019 film The Curse of La Llorona. This Guatemalan film uses South America's myth of the crying woman to make a movie about corruption and justice. Taking place almost entirely in the home of an unrepentant, genocidal general under siege in his own house, La Llorona is a beautiful film about justice served. Another perfect movie for the times as America attempts to remove a president who would-be dictator from his house in the hopes that democracy will return.
---
Possessor Uncut (2020) – Brandon Cronenberg's second feature film is a brain-bending odyssey into identity horror as a body jumping assassin struggles to keep sane while attempting to complete their assignment.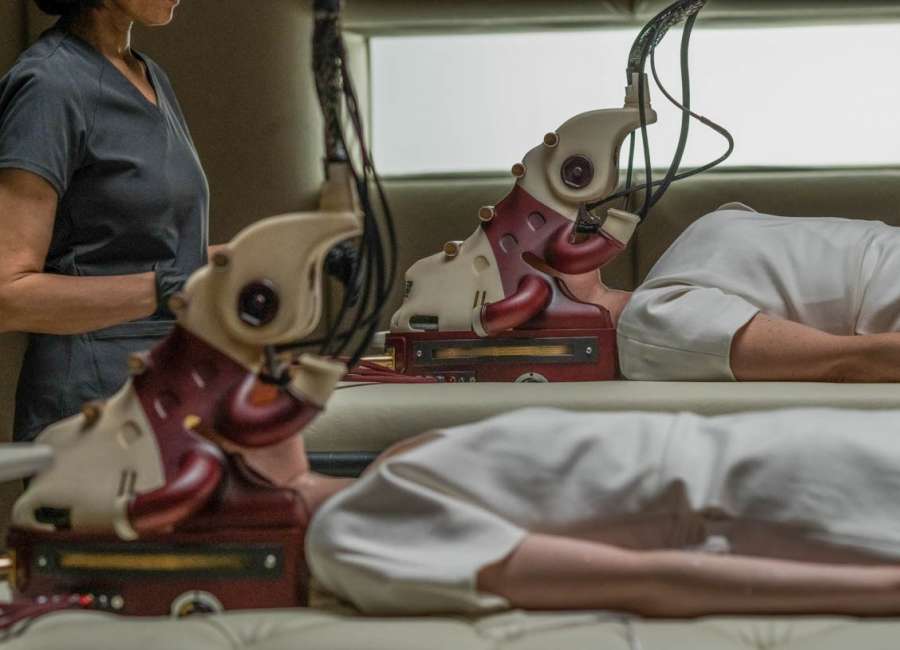 ---
Amulet (2020) – My slow-burn movie of the year. Starting as a story about a refugee adjusting to his new country, Amulet gradually shifts into a deep dive into mysticism, reminding the viewer that the past cannot be put away or forgotten.
---
RATED 8/10

: Depraved, The Wretched, VFW, Pure, Gretel & Hansel, Luz
Depraved (2019) –
Larry Fessenden is a national treasure! While not a perfect movie, his updated version of Frankenstein is fantastic and was worth watching.  
---
The Wretched (2020) – A solid story and great performances elevate this adolescents versus witches horror film to a highly entertaining and frightening experience. 
---
VFW (2020) – I have been a fan of Joe Begos since his earliest films.  Bliss was one of my favorite films of 2019.  This movie, with its throwback to the 1980's aesthetic, is a thrill-packed fun ride.  Taking place in basically every VFW bar I have ever been in and featuring a  who's-who of veteran tough-guy actors in an inner-city siege movie,  VFW offers plenty of action and surprises. I will be showing this on Christmas to friends and family.
---
Pure (2019) – Part of Hulu's Into the Dark horror series, Hannah Macpherson's offering dives deep into one of men's greatest fears – adolescent girls on the cusp of womanhood and the lengths they will go to control their daughter's bodies. I don't have anything new to offer to the discussion of patriarchal oppression (check out Sadie Doyle's fantastic book Dead Blondes and Bad Mothers: Monstrosity, Patriarchy and the Fear of Female Power for a great discussion on that and horror if you want one), but this episode is fiercely angry, bloody and a kick in the nuts.
---
Gretel & Hansel (2020) – I am a huge fan of Oz Perkins' directorial debut, The Blackcoat's Daughter, so I was extremely eager to catch this in the theaters this year. His is definitely a name to remember, especially if you like your movies made with breathtakingly beautiful imagery and complex, multi-layers stories that resonate to our deepest cultural cores. 
---
Luz (2019) – Luz is another mind-melding adventure where the narration becomes a character in its own story. Taking place almost entirely inside a police interrogation room, or does it? Luz is a complex and entertaining possession film.