Read Time:
3 Minute, 37 Second
Ever since I was old enough to stay up late and use the stove by myself, Friday nights were all about eating frozen pizzas and watching horror movies on TV. Before the Internet and VCRs, I was limited to the choices of whatever the local stations had on hand. Right after the nightly news, The Hoolihan and Big Chuck Show would start its weekly program of movies, silly skits, and PSAs for activities in Cleveland. Eventually, my parents bought a VCR, and the local video stores expanded my access to horror movies.
Now, nearly four decades later, I celebrate my love of horror movies and frozen pizzas whenever I can. Here is the lineup from my latest Friday Night Pizza and Horror Movies ritual:
---
4) She Freak (1967) – FIRST TIME WATCH! Written and produced by exploitation filmmaker extraordinaire David Friedman, She Freak is a pale, bloodless retelling of Tod Browning's carnival-shocker Freaks (1932).
Lead actress Claire Brennan plays Jade, a gold-digging diner waitress who joins a traveling carnival to escape her dead-end life. She married the man of her dreams and inherits his collection of sideshow performers. The freaks revolt against Jade, transforming her into a hideous sideshow attraction herself.
Pacing is uneven as the film swings between scenes of lifeless dialogue and long musical montages of carnival life. In Browning's macabre masterpiece, the sideshow performers were front and center, each one becoming known to the viewer. She Freak keeps its oddities out of sight until almost the very end and is a less interesting film because of it.
---
5) The Invitation (2015) – One of my favorite movies of recent years, I rewatched it to prepare for the Faculty of Horror's killer episode on it. (NB: If you are a fan of The Invitation and interested in a deeper dive, check this episode out!)
Director Karyn Kusama (Jennifer's Body) and writers Phil Hay and Matt Manfredi present a perfectly orchestrated evening among friends, with side dishes of paranoia, grief, and a deadly desert. Will (Logan Marshall) and his girlfriend Kira (Emayatzy Corinealdi) go to a dinner party to reconnect with a group of Will's friends thrown by ex-wife Eden (Tammy Blanchard) and her new husband, David (Michiel Huisman). John Carroll Lynch shows up as the creepy and controlling fanatic Pruitt. Over the evening, Wills PTSD induced paranoia isolates him from the group as he becomes more and more convinced something is wrong.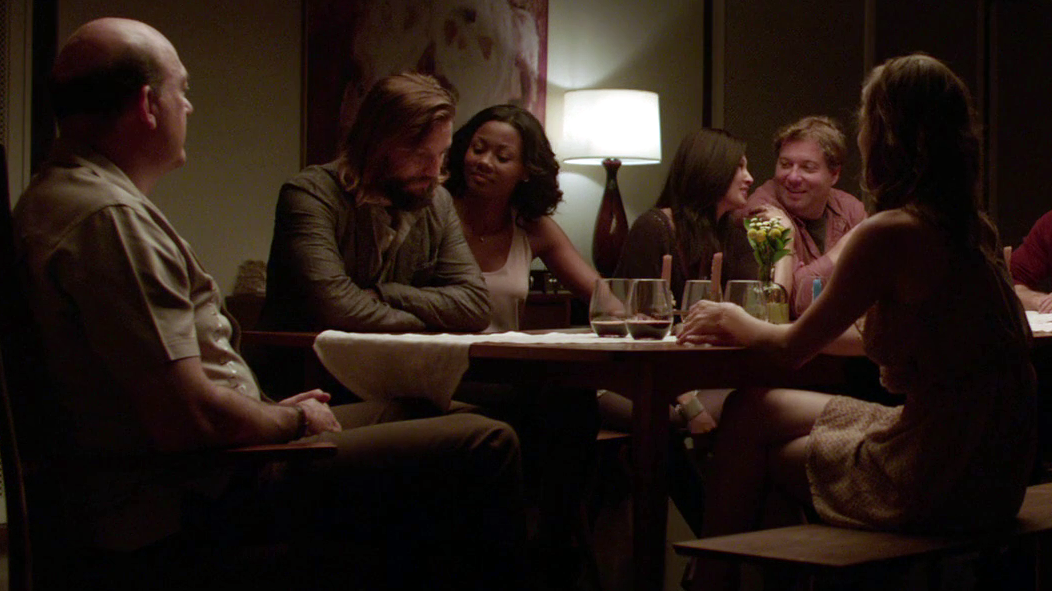 ---
6) Bingo Hell (2021) – FIRST TIME WATCH! I will have to put this in the "movies I wanted to like but didn't" category. Mexican writer, director, and actor Gigi Saul Guerrero's latest offering is a tame and poorly executed "mysterious stranger seduces the entire community" type of film. The remaining residents of Oak Springs find their town has come under the sway of the mysterious Mr. Big and his enchanted Bingo hall. Chaos ensues.
---
7) **Bonus Movie** Savage Streets (1984) – FIRST TIME WATCH! Poodle-permed teenage vigilantism is an under-explored genre. This wildly uneven rape-revenge thriller features scream queens Linda Blair and Linnea Quigley as sisters Brenda (Blair) and Heather (Quigley).
When Heather gets raped and a gang of drug dealers murders pregnant bride-to-be Francine (Lisa Freeman), Brenda unleashes the dogs of bloody vengeance.
The movie packs plenty of sleazy thrills into its 83 minutes run time. The post-gym class, girls locker room shower, the nude fight is a one-of-a-kind scene. However, Heather's rape is I Spit On Your Grave explicit and may be hard to watch. Although nominated for several Saturn Awards, Savage Streets only received one award: Linda Blair won a Razzie award for the worst actress. Her left eyebrow spends so much time going up and down that it is hard to tell if it is an emotive device or a symptom of a neurological disorder.