Read Time:
10 Minute, 15 Second
Despite the horror genre seeming like purely adult stuff, kids love to be scared as much as their 18+ adult counterparts, and children's entertainment has been all over spooky, scary, creepy, and gross stuff for kids forever. Sure, it's been toned down, but that sometimes works to its advantage. When you can't rely on gore and violent jump scares, atmosphere pushes your child-friendly content into what's scary. And you're left with some intriguing material.
I started watching horror as an avid fan around age 10, and my mother didn't care what I watched, so Hellraiser and Nightmare on Elm Street is where I cut my teeth. This Spooky Stuff for Kids series will look at three categories that any scare-loving kid (with more diligent parents than I had) should hit up for chills: television, movies, and books!
The topic currently at hand: monstrous movies!
---
Disney Original Movies
If you were a child of the 90s, you watched a lot of Disney Original Movies. There was one on every weekend, and the experience became synonymous with those of us born in the 90s. And if you tuned in around Halloween? Original spooks and scares were plentiful! There was Halloween Town (1998) and its plethora of sequels that showed us the lives of a teenage witch and her eccentric grandmother who lives in a dimension where it's Halloween all the time. There was Phantom of the Megaplex (2000) about a ghost haunting a movie theater by using movie references (the King Kong-esque climax of the film is amazing). There were a few sillier options like Under Wraps (1997) about a clumsy mummy named Harold and Mom's Got a Date with a Vampire (2000) which is about…mom having a date with a vampire. Disney went full tilt into the self-explanatory title. If you're a child looking for something truly chilling that still has the Disney logo on it though, look no further than Don't Look Under the Bed (1999). Following a girl whose imaginary friend sells her out to the Boogeyman, this movie is the stuff of nightmares. Seriously, easily scared children should not start on Don't Look Under the Bed!
Monster House
There's a common childhood experience no matter who you are and where you live: there's always one neighbor that you shouldn't fuck with. It could be that a horrible old person lives there, or the house is creepy looking, or gossip and rumor abound. Monster House (2006) has all three rolled into one convenient 3-D animated feature! "Never go to Nebbercracker's house" is the premise of this Steven Spielberg-produced romp. The horrible old man will take anything that touches his lawn and threaten worse than bodily harm to trespassers. But why? When DJ and his friends end up inside the house to take back something that belongs to them, they discover that Nebbercracker wasn't who–or what–they should be scared of. The faux-stop motion look adds charm while the story itself has some pretty mature concepts in it. Monster House could definitely give the younger audience a serious thrill.
ParaNorman
ParaNorman (2012) is seriously one of my favorite spooky kid's movies! Possibly just a favorite movie in general. This is what spooky stuff is made of! In the town of Blithe Hollow, Norman Babcock is a boy who can speak to the dead, but no one besides his new friend Neil believes his ability is real. One day, Norman's estranged, eccentric uncle tells him of an important annual ritual he must take up to protect the town from a curse cast by a witch the town condemned centuries ago. Norman decides to cooperate, but things don't go according to plan. Now, a magic storm from the witch threatens Blithe Hollow as the accursed dead rise. ParaNorman is everything spooky kid's media should be. It's got adorable characters, including the first openly gay character in an animated kid's movie, and women that don't all look the same (looking at you Disney). It's got a great story with spooks, scares, humor, and an especially touching ending. And it's stop motion! And with the amount of work that needs to go into making a stop motion movie, you know only the best stuff gets made.    
The Witches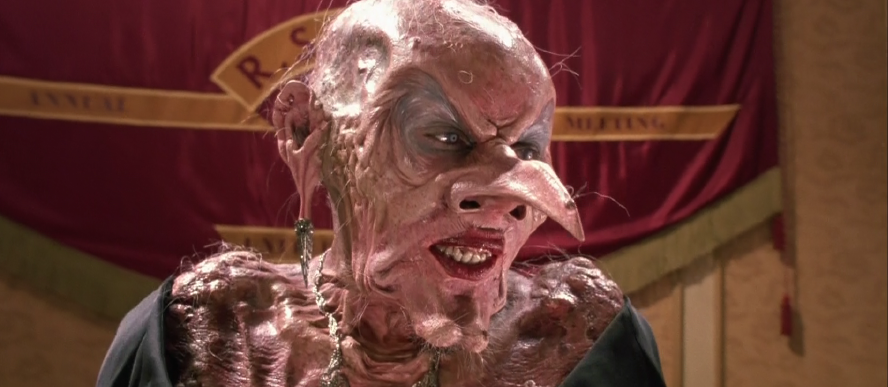 Roald Dahl is a staple in childhood entertainment. His short kid's books have become beloved movie classics, and some of them are ripe for childhood horror. The Witches (1990) being a prime example. The Witches follows a young, recently orphaned boy who is taken to England by his grandmother. At the hotel where they're staying, a group of witches have gathered to prepare a plot to rid England of all children. My kind of people! As is Dahl's way, the story is full of sinister irony, plenty of creepiness, and a sort of morbidity that appeals to kids!
Hocus Pocus
Here's an absolute Halloween classic for kids and adults: Hocus Pocus (1993)! 300 years have passed since the Sanderson sisters were executed for practicing dark witchcraft. Returning to life (thanks to a combination of a spell spoken before their demise and the accidental actions of Max, the new-kid-in-town), the sisters are back, and right in time for Halloween! They've got one night to secure their continuing witchy existence, though of course, there's still time for Bette Midler to sing a song. Don't be crazy, there's always time for that! Hocus Pocus offers up an all-ages spooky movie with musical numbers, comedy, and charm by the cauldron-full.
Casper
Casper (1995) is all about a greedy woman looking for treasure in her father's haunted mansion. The ghosts don't like her, though, and chase her off. Enter Bill Pullman as afterlife therapist Dr. James Harvey. Harvey and his daughter Kat move in to get rid of the ghosts, and soon Kat meets Casper, the ghost of a young boy who's "the friendliest ghost you know." But not so friendly are Casper's uncles — Stretch, Fatso, and Stinkie — who are determined to drive all "fleshies" away. Ultimately, it's up to Harvey and Kat to help the ghosts cross over to the other side. Now, in all honesty, Casper probably isn't the scariest movie to sit your kids down to watch, but I think the use of the word "fleshies" to describe people is spooky enough to include on the list!
Ernest Scared Stupid
Every kid has seen one of the Ernest movies. It's like a rite of passage. Though you'd be forgiven for forgetting that; who has parts of their adult brain dedicated to Jim Varney? As a kid though? I mean, I had better taste than most as a child, but even I watched them when the Family Channel would air them. Ernest Goes to Camp (1987), Ernest Goes to Jail (1990), Ernest Goes to School (1994), I've seen 'em all, baby! As was my way as that weirdo kid that got way too into scary things, I held Ernest Scared Stupid (1991) above all the others. In Ernest Scared Stupid, the titular character helps an evil troll escape its grave. By accident, of course. The evil troll terrorizes his small Missouri town, and Ernest is their only hope. May God have mercy on their souls, am I right? The practical effects on the troll makeup is pretty creepy: very goopy and drippy. And Eartha Kitt is there as a crazy old witch woman. A+ casting.
Arachnophobia
Here was another movie that aired on the Family Channel (and that's how I originally saw it): Arachnophobia (1990). When a large spider from the jungles of South America is accidentally transported to America, the residents of a small California town begin to disappear as the result of spider bites. It's up to a couple of doctors with the help of an insect exterminator to annihilate these eight-legged freaks before they take over the entire town. While it is listed as a comedy first and foremost on IMDb, Arachnophobia is definitely a nail-biter for anyone scared of spiders. Which is literally everyone…don't say you're not because that's a lie! I don't know why I sat down to watch it — being as scared of spiders as I was when I was a kid — but I did. And the scene where the spiders are pouring under a door has stayed with me to this day!
The Hole
Here's one of the more serious movies on this list. Directed by Joe Dante [The Howling (1981), Gremlins (1984)], The Hole (2009) follows Susan and her sons Dane and Lucas as they move from Brooklyn to the country town of Bensonville. The country is less idyllic than imagined, though, and not just because the brothers miss the city. The brothers find a bottomless hole in their basement locked with padlocks. They take the locks off and soon find themselves haunted by their darkest fears. Clowns, creepy children, ghosts — it all sounds (and looks if you take a peek at the trailer) pretty serious — but it's only a PG-13. Like the classic Poltergeist (1982), the whole family can enjoy these thrills and chills.
Poltergeist
Poltergeist (1982). As if you didn't see this coming with the name drop happening just above! In this PG-rated, Steven Spielberg-written horror classic, a young family is visited by ghosts in their home. At first the ghosts appear friendly, moving objects around the house to the amusement of everyone, but things soon take an altogether sinister turn. As Spielberg is prone to do, he fiddled with this movie just enough to lower its age rating, thus ensuring that a larger audience would see it. This turned Poltergeist into one of the most intense movies you can sit your 11-year-old kids down to watch and tell yourself that you're a better parent than mine when I was 11 and watching Hellraiser (1987)!
Goosebumps
The Goosebumps franchise is appearing in every single one of these Spooky Stuff for Kids articles! There's 68 episodes of the show, 62 books (in the original series), and as of 2015, a feature-length, big-budget movie with a sequel in 2018 (that's not as good because Jack Black was, unfortunately, nowhere to be found). But he was to be found in the first film! Upset about moving from a big city to a small town, teenager Zach Cooper finds a silver lining when he meets the beautiful girl, Hannah, living right next door. But every silver lining has a cloud, and Zach's comes when he learns that Hannah's mysterious dad is R. L. Stine, the author of the bestselling Goosebumps series. It turns out that there's a reason why Stine is so strange…he's a prisoner of his own imagination! The monsters that his books made famous are real, and Stine protects his readers by keeping them locked up in their books. When Zach unintentionally unleashes the monsters from their manuscripts and they begin to terrorize the town, it's suddenly up to Stine, Zach, and Hannah to get all of them back in the books where they belong. Readers beware, indeed!
Henry Selick
When it comes to stop motion animation in movies, everyone always says Tim Burton. Who they mean to say, though, is Henry Selick. Over the years, Selick has directed three of the best spooky-adjacent to just-plain-spooky kid's movies available: Nightmare Before Christmas (1993), James and the Giant Peach (1996), and Coraline (2009). Even if Nightmare Before Christmas skews more to musical than horror and Coraline more to a cautionary tale of "be careful what you wish for," all three of these classic romps through magical worlds are lovingly hand-crafted stop motion movies with creepy visuals and outlandish but lovable weirdos for their main characters. A kid with a soft spot for the weird couldn't ask for more!
---
Curious about more child-friendly scares? Check back for Spooky Stuff for Kids: Television and Spooky Stuff for Kids: Books!