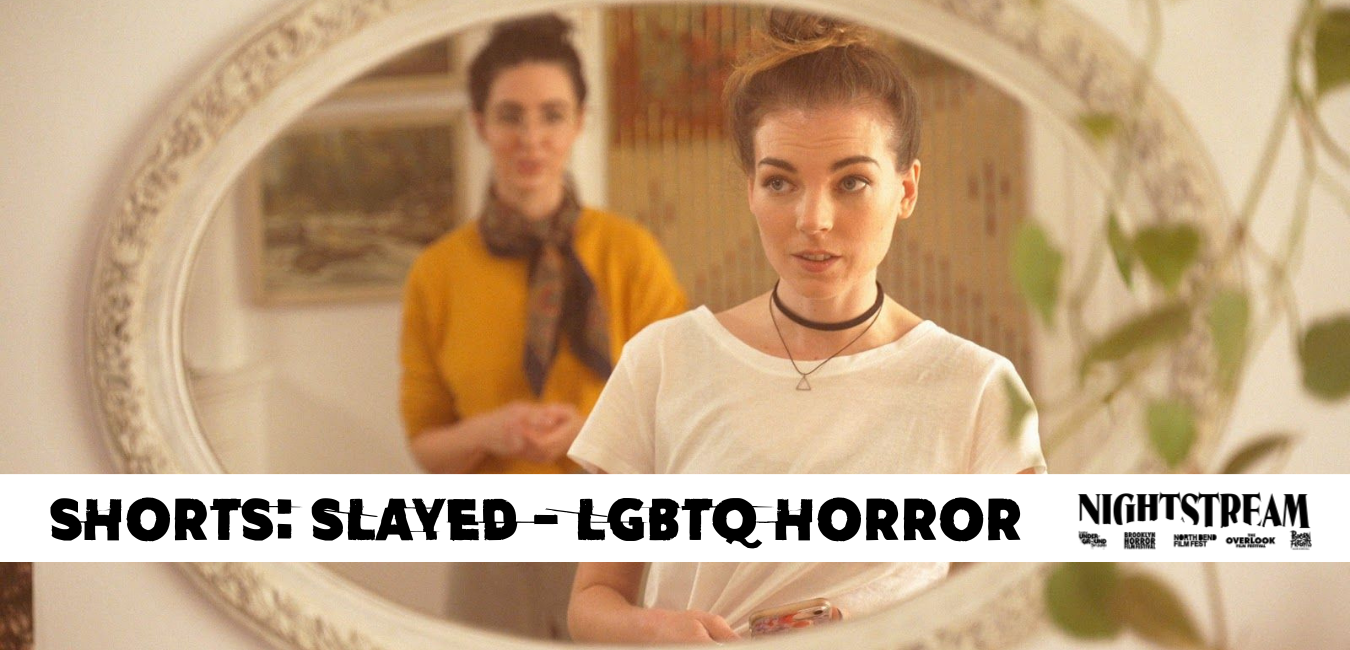 Read Time:
5 Minute, 16 Second
Susie
Directed & Written by Jordan Doig
Starring: Cat Olson, Andrea Murillo
Susie and Andy's relationship starts to take a nosedive into toxicity. Susie starts to manifest something to escape. 
At first, I thought this was about Susie just having a mental illness, but then I watched it again, and all the telling signs of an abusive relationship is right there. It put many things in perspective and mostly blew my mind because I had to watch it again to SEE it being toxic. Andy's control and hovering over Susie was a lot, but Susie trying her best to get out and get free really got me. The ending of this short hit me right in the heart. It's such a twisted view of an abusive relationship, and you're almost wondering if you're going crazy.
SCORE: 9/10
---
THORNS
Directed & Written by Sarah Wisner & Sean Temple
Starring: Sydni Perry, Kathleen Burke, Tyler Buckingham
Gwen and Jade stop at a creepy motel for the night. When an equally creepy man slams on their window and presents them with a rose, it turns out to be a long night ahead for the girls. 
I am completely and utterly biased in this opinion, but I fucking love this short so much. In fact, I loved it so much I wrote an entire review about it. Wisner and Temple are some of the best short film directors out there. They create memorable characters, and you'll want to be best friends with them. I can't wait to see their future feature film. Sydni and Kathleen shine brightly, and their chemistry is just as strong. THORNS leaves you vulnerable, and you'll get so much out of it that you'll be thinking about it for a while.
SCORE 20/10
WATCH IT FIVE TIMES. THANKS.
---
Going Steady
Directed & Written by Brydie O'Connor
Starring: Megan Canter, McCandlys Harrison
A woman in the 1950s daydreams about what she truly desires. 
Patty just wants to get boned down by a pretty girl. Is that so much to ask? The fact that she goes through an entire daydream about killing her boyfriend, dressing him up as her girlfriend, and going on dates is not only fully but actually adorable. It also made me think of a lot of people from the 1950s and before who had to hide that part of themselves. Especially by the end because her dreams were just that, dreams. She had to go and live a "normal" life with this dude she's been seeing, which is upsetting, but it used to happen.
SCORE: 8/10
---
Jeff Drives You
Directed by Aiden Brezonick
Written by Addison Heimann
Starring: Addison Heimann and Tanner Rittenhouse
A man has to attend a wedding, and he's offered a free service from a self-driving car company. The only problem is, the man and the car fall in love. 
From the jump, this reminded me of the movie HER, and then after the cute HER moments, it becomes OH NO super fast. This is a whole ass movie in 16 minutes. If this were more, I'd be super interested in watching it, but this was the perfect length to get the narrative out. It's intimate and deep. It's emotional and loving, and even hilarious at times. It hits the beats of being a romantic comedy, and I was even rooting for them! This was such a wonderful and odd film that touches you, and you don't believe how emotionally invested you become.
Oh yeah, if you want to know, he does fuck the car. 🙂
SCORE: 9/10
---
At the Edge of Night
Directed by Philippe Sung & Brandon Fayette
Written by Philippe Sung
Starring: Philippe Sung, Charlie Cattral, Ashleigh Brewer
Aaron and Ben are buds and soulmates, and when a tragedy leaves Ben dead, Aaron can't move on. 
Listen to me. I CRIED during this short. Full-blown fucking tears streaming down my face. This… blew me away. This was another short that was a whole movie in such a short time, and I'd watch more of this immediately. It reminded me a lot of A Ghost Story. The lover that you lost comes back kind of narrative, but this was something special. Aaron and Ben were perfectly imperfect, and it seemed like it was going to be a straight-forward story with Ben perhaps getting Aaron back, but it wasn't that at all. A couple of things that got me was Aaron and Ben's chemistry, Aaron hitting rock bottom, and Ben sticking around for Aaron because, ya know, soulmates. I'm tearing up right now thinking of it. A beautiful heartfelt narrative, that's haunting and loving at the same time.
SCORE: 10/10
---
Don't Text Back
Directed & Written by Kaye Adelaide and Mariel Sharp
Starring: Danielle Lapointe and Nancy Webb
Kelly's Tinder date sent her a necklace that gets tighter every time she doesn't text him back. She goes to a healer to help.
This was another favorite of mine during the festival. The biggest thing about this short is that you really get to adore both of the ladies while they're trying to fumble their way out of Kelly's situation. They play off each other so fucking well that I wish I were friends with them, talking about crystals and getting stuff to eat. The overall narrative was also hilarious. A dude who does magic sends you a necklace to always talk to him, but he gets terrified of commitment? Comedy gold.
SCORE: 10/10
---
I Love Your Guts
Directed & Written by David Janove
Starring: Allie McCartney, Danielle Kay
Kristina and JacQui are working late at night at a fast-food restaurant when they're visited by a hostile drunk dude who wants to order.
This was cute, and I found myself cringing all the way through. It starts as an infatuation/crush situation that stumbles into this hilariously horrific situation for these two girls. It also isn't out of the realm of possibility for two girls to be working late night shifts, and then all of a sudden, a drunken asshole attacks them for no reason. Both the scenarios of the unrequited love and drunken asshole attacks weave together so perfectly because their both so unwanted, and you don't know the scenario that will come out with either one.
SCORE: 9/10