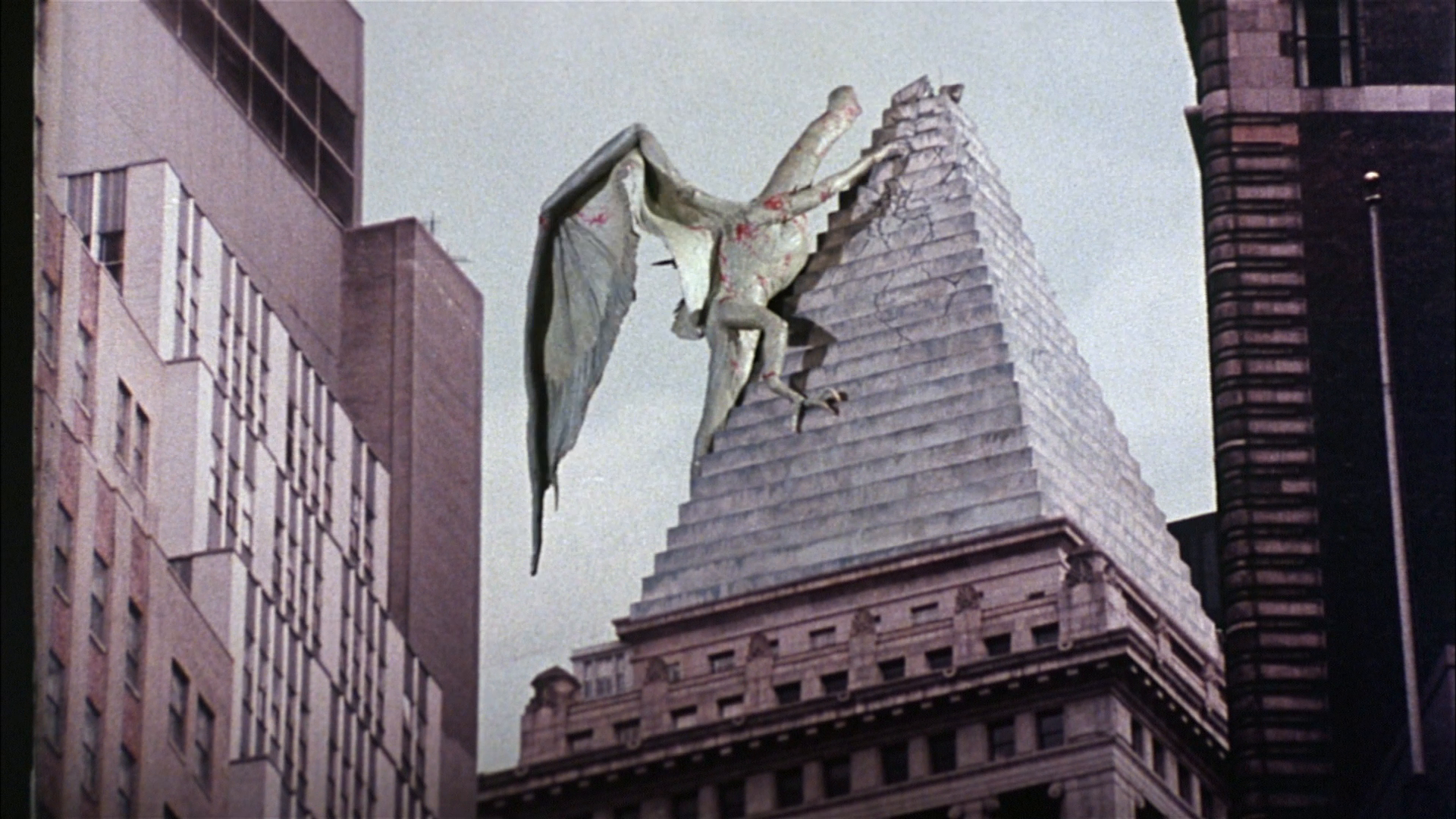 Read Time:
4 Minute, 36 Second
THE LAST DRIVE-IN WITH JOE BOB BRIGGS
WEEK 2
Larry Cohen is an important director when it comes to genre cinema, b-movies, and truly independent productions. So it's no surprise that a Larry Cohen movie would appear on The Last Drive-In. It's a bittersweet surprise that it came so early in the run. I had been meaning to revisit a bunch of Cohen films since his death — the D/M staff wrote a tribute for the King here — and this was the perfect way to do it.
Cohen was so important to the spirit of everything The Last Drive-In embodies that they even revealed which film they were doing early, in this very nice and very touching video:
We never announce the titles in advance on "The Last Drive-In" but we have a special reason for doing it today. #TheLastDriveIn @shudder @kinky_horror pic.twitter.com/0CcDFeUj47

— Joe Bob Briggs (@therealjoebob) April 5, 2019
So, let's get right to it and talk about…
---
Q – The Winged Serpent (1982)
I love this movie so much.
Joe Bob had previously mentioned that they were going to do a Larry Cohen film. I was hoping for Q, but kind of suspected The Stuff. Obviously, The Stuff rules too, but I was pleasantly surprised that we got this totally insane movie instead.
The story is both simple and bonkers: a winged serpent — the titular winged serpent — is terrorizing New York, swooping down and ripping people's heads off. Quetzalcoatl also happens to be roosting at the top of the Chrysler building. I love that the entire film is born from the simple image of a large creature perched atop the Chrysler building. It's perfect monster movie imagery.
Filling out the actual, you know, story of the film are a couple of plotlines that come together at the end. Detective Shepard (David Carradine) and Sergeant Powell (Richard Roundtree) are investigating the people disappearing from rooftops, and the apparent Aztec-style human sacrifices happening across the city. Meanwhile, lowlife dirtbag Jimmy Quinn (Michael Moriarty) is part of a diamond heist, and his escape from the cops takes him to the top of the Chrysler building and right into Q's nest.
There are two things that help Q stand out from other films: the acting and the effects work. Michael Moriarty is a top-notch sleazeball, and he goes all out in this film. You get some nice characterization a little later on when Moriarty is making a deal with New York to tell them where the nest is, but for the most part the acting sells how pathetic and beaten down this man is. Carradine doesn't get a showy role, but his bemused coolness is a nice counterpoint. I'd watch several more Q movies — R? S?! T!!!! — starring these two characters.
The real reason to tune in is Joe Bob's clear reverence for the film and for Cohen himself. I love hearing stories about Cohen's low budget, guerilla tactics while making genre pictures, and Joe Bob tells some great ones. It can be really fun to hear him rip into movies with major flaws, but it's a special kind of magic to hear Joe Bob talk about a movie he loves.
---
Society (1989)
I don't know if Society counts as a movie Joe Bob loves, but it's certainly got a scene he loves. He spends almost all of the segments leading up to the "shunting" talking about the "shunting".
Which… once you've seen the "shunting", it is hard to talk about anything else.
Society is a body horror film by Brian Yuzna, with some truly fantastic special effects by Screaming Mad George. It's about Bill (Billy Warlock), a guy who feels out of place in his family and his society — the social commentary is the opposite of subtle — and he believes something more sinister and weird is going on. Boy, is he right.
I watched Society for the first time recently. We covered it in The Film Runners podcast Halloween special. It was nice to revisit it so soon afterwards, especially seeing people on Twitter who had no idea what they were in store for with that final season. It really helped sell the communal aspect of a show like The Last Drive-In.
There are goofy aspects to the film early on, like several scenes that seem ripped off completely from '80s sex comedies, and it could have used a few more of those freaky effects up front. But when you finally do get to the payoff… god damn. It's absolutely a climax worth waiting for.
---
This week seemed a little smoother than the first one, but that may have just been the fact that I think both of these films are great. It helps that Joe Bob's love of Larry Cohen and Darcy the Mail Girl's hilarious love of Billy Warlock ends up being infectious.
Interestingly, it looks like they re-edited the episode to play Q first instead of second. It makes sense, since they revealed the film before the episode aired, it saved a little mystery until the end. Luckily the rearrangement was pretty seamless, with the more recently filmed Mail Girl segment patching over any cracks.
Overall, an even better episode than Week 1. The Last Drive-In continues to be a must watch.
Hail to the King.
---
The Last Drive-In with Joe Bob Briggs airs every Friday at 9 PM est until May 24.
Also, check out our Executive Assistant Justin Partridge tweeting about the event from our official twitter and learns what #SHUNTING does to a man.