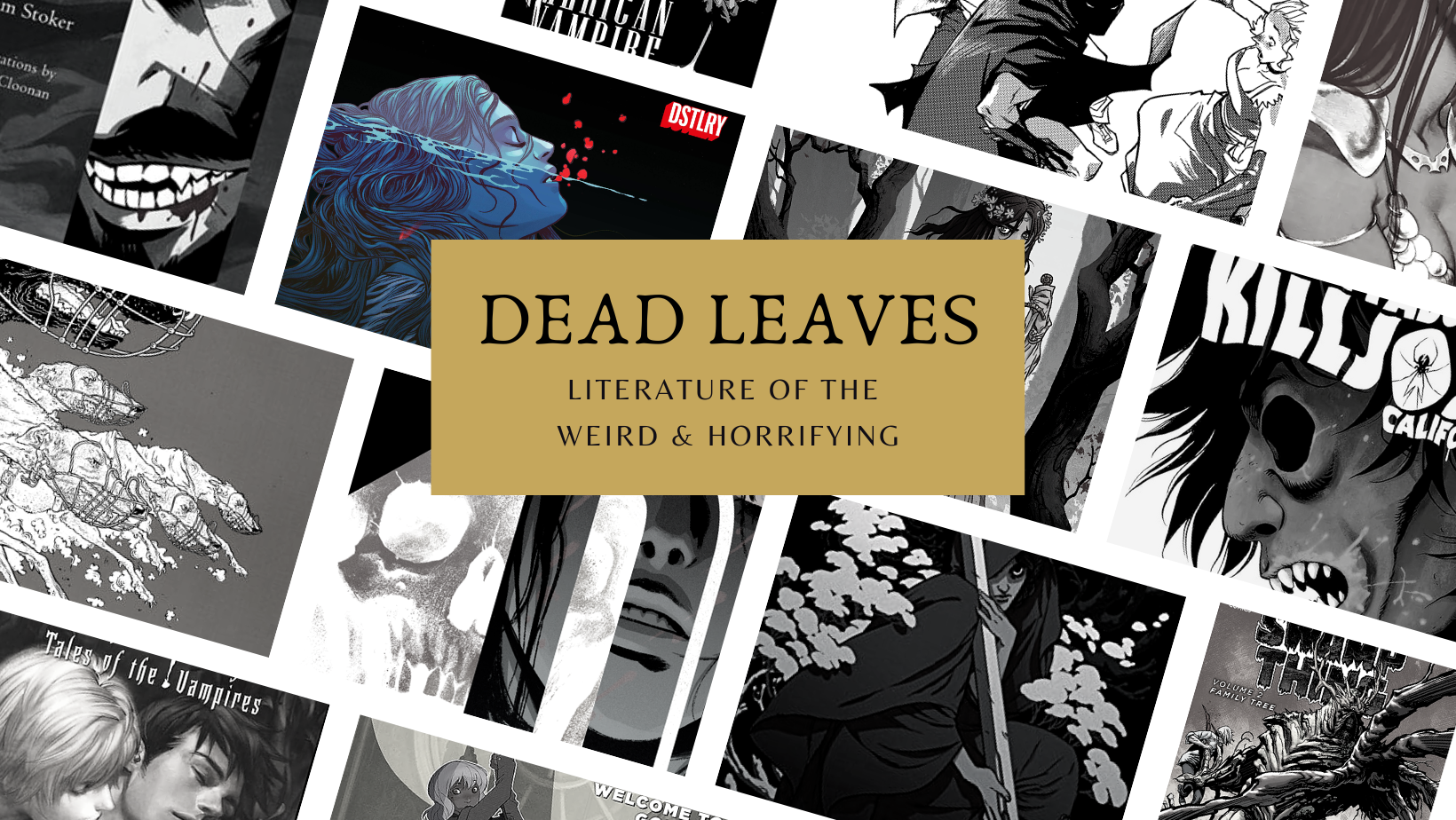 Read Time:
4 Minute, 35 Second
Welcome to Scions of Horror, a corner of the Dead Leaves library where under-sung indies are stacked side-by-side with unusual entries from the greats. Today we visit Becky Cloonan's shelf–prepare for dark rituals, haunted manors, and most of all, ink running thick and heavy as blood…
---
In the way that students in the same college might first encounter Noam Chomsky in a linguistic anthropology class or a political theory class, comic book readers generally take a many-forking path to Becky Cloonan.
Although an early collaboration with Brian Wood (Demo, 2007) shot her straight to the Eisner Awards, her body of work shows an artist not content to rest on laurels. Despite forays into Marvel and DC superhero comics, Cloonan's library is most brilliantly illuminated by DIY and hyper-indie efforts. And whether inspired by manga (East Coast Rising) or working across disciplines (The True Lives of the Fabulous Killjoys), dabbling in IP (Buffy the Vampire Slayer) or creator-owned characters, Cloonan's work as writer and artist always calls to the dark side. Steeped in saturated colors from acclaimed artists including Lee Loughridge and Dave McCaig, by turns nightmarish or dreamy, Cloonan's art calls to mythic pasts. Her writing, particularly on titles such as the just-ended Batgirls, complements this love of lore with incisive character work and humor.
And then there's the music. The most left-hand path to Cloonan appreciation, perhaps, is the one I took. I didn't grow up reading comic books, in large part because of the thing I love about them now: their low-brow reputation. Gore, violence, sex, strong language–all these and more were surely to be found, according to my mother, in Archie's cheap, garish pages. What other stalwart of American low culture can compete? Heavy metal music, naturally. At the time I was getting into comic books, I'd also discovered a love for metal, and my subgrene of choice would eventually settle on doom. If there's one thing Cloonan loves besides moody, ink-heavy art, it's metal. In 2012, a couple of years after I'd begun a regular pull list at my local comic shop, I saw a band I liked hyping their new record online. J.H. Williams III album cover, they said. Becky Cloonan t-shirt design, exclusively available at tour dates.
Reader, I wore that t-shirt out. The vinyl is in slightly better shape, still hefty, beautiful, and glowing with JHW3 style. I hadn't recognized Cloonan's name in the moment, as I had J.H. Williams III. But I was curious… and once I started down the rabbit hole, I found it without limit. 2012 was the same year that Cloonan nabbed the Swamp Thing annual, writing a Rotworld story for a book and creative team I loved. She also landed Batman, gothest of the goths, and developed an original Batstory with a classic Gothic setting: the boarding school in Gotham Academy. The Punisher, Harley Quinn, American Vampire, Doom Patrol--Cloonan consistently aims for the weird, bleak, and chaotic elements in oft-candy-colored superhero universes. Her Batman stories, the work for which she's likely best-known in the mainstream, seek the darkness that only Gotham can conjure. Presaging the popularity of Netflix's Sabrina the Teenage Witch and Wednesday, Gotham Academy relishes dark-academia tropes like secret societies and school ghosts.
Yet for all her Big Two titles, established-character work, and a top-tier cover gallery, hipster metalheads and folklore aficionados (a combo that happens with increasing frequency) are the biggest Cloonan beneficiaries. She loves medieval settings, working on Northlanders, Conan the Barbarian, and Mouse Guard; medieval lore, costumes, and art are part-and-parcel of many contemporary metal scenes.
In 2021, Cloonan contributed a strip to a collected edition of Belzebubs, a sort of black metal version of Gorillaz or Dethklok, cementing the close relationship between fringe music and comics. Her creator-owned book By Chance or Providence glories in mythology, fairy tales, and ghost stories. Black Church, co-created with fellow comic artist and metalhead Andy Belanger, pays homage to Vlad the Impaler by way of heavy metal aesthetics. She even designed the official festival artwork for metalfest Roadburn's 2016 edition.
Now riding the lit-world wave of dark and romantic fantasy–not to mention film's ongoing folk horror craze–Cloonan is poised to deliver Somna, a three-part erotic horror series from new Comixology alternative DSTLRY. Co-authored with Tula Lotay, Somna promises a sexy dalliance with devilish forces–sounds perfect for fans of The VVitch and The Green Knight.
Readers eager for a sneak peek can scoop The Devil's Cut, a DSTLRY one-shot featuring Cloonan and Lotay alongside other horror-comics aficionados like Brian Azzarello, Francesco Francavilla, and James Tynion IV. The creative team's social media teasers for The Devil's Cut and Somna alike promise a seductive descent into the underworld, suffused with the passionate bombast and funereal power of heavy metal. That cross-pollination sets Cloonan's work apart and keeps readers (and listeners) tuning in whenever a new project pops up. Whatever your flavor of fright, from vampires and slashers to deathless loves or haunted cityscapes, there's a Becky Cloonan book for you.